The Beginning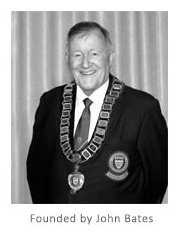 On a cold November morning in 1989, SWR was born and began operating from a small store and workshop in Hemel Hempstead. Our Founder John Bates created the company under the name Steel Wire Rope Ltd with one focus area, supplying full reels of wire rope.
Tim Berners-Lee invents the World Wide Web
In 1989, whilst working at CERN (the European Particle Physics Laboratory in Switzerland), Tim Berners-Lee came up with the idea of the World Wide Web, a new way of using existing internet technology to share information. He wrote the first web browser the following year and went on to found the World Wide Web Consortium (W3C) in 1994.
Garage Door Trade Spares Launched
After supplying wire rope to the garage door industry, John Bates spotted another opportunity to provide wire assemblies for garage doors specifically. SWR Trade Spares was born and is now the UK's leading supplier of garage door trade spares.
Diversification
At the peak of the recession, the company re-branded as SWR Ltd, invested in presses, reeling and testing machines, and developed a range of high-quality wire rope assemblies for trade. This led to the need for a move to larger premises in Hemel Hempstead to enable further investment in stock and capital equipment.
Channel Tunnel Opened
The Queen and France's President Francois Mitterrand formally opened the Channel Tunnel during two elaborate ceremonies in France and Britain.
BS 5750 Quality Accreditation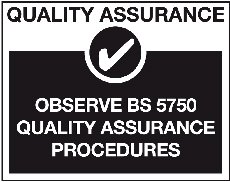 SWR proudly became the first entirely independent UK wire rope supplier to achieve the BS 5750 quality accreditation, supporting the ethos held by SWR's owners.
Second Relocation
Further growth beckoned, along with a need to modernise. Jason Lee is appointed Managing Director and SWR moves to its current location in Eastman Way, Hemel Hempstead, to further improve the manufacturing processes and quality. Production of larger diameter stainless steel assemblies has increased and remains a speciality today.
SWR Garage Doors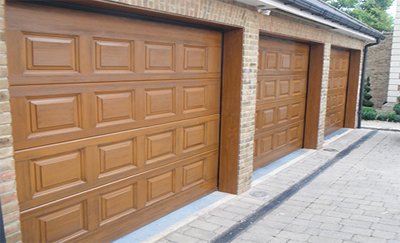 After years of supplying wire rope assemblies and garage door spares to the industry, SWR ventured into the supply and installation market. SWR Garage Doors began installing Garage Doors within the Bedfordshire, Buckinghamshire and Hertfordshire areas.
Website Launch

SWR launched steelwirerope.com enabling them to reach out to international customers.
ISO9001 Quality Accreditation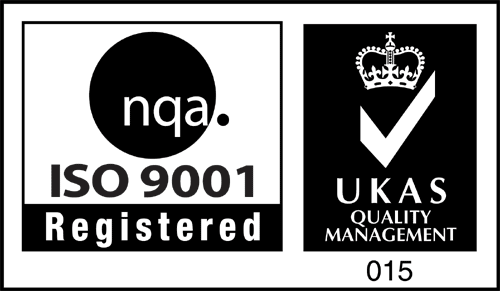 Working closely with NQA, SWR reached another milestone reflecting their "commitment to quality" by successfully achieving registration for the ISO9001 on the first attempt.
SWR Goes Global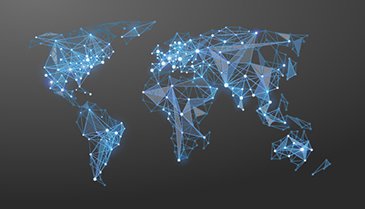 SWR began exporting worldwide. By 2006, products were journeying to over 50 countries, today SWR regularly export to all continents regularly.
iPod Released
Apple launched its first portable music player, the iPod. The first incarnation of the device that was to revolutionise the music industry had a mechanical scrolling wheel and was launched with an option of either a 5GB or 10GB capacity. The iPod was first sold at a shade under £300.
We Need More Space, Again!
SWR doubles in size by taking over the adjoining premise in Eastman Way, Hemel Hempstead to cover 15,000 sq ft, as well as securing a separate 10,000 sq ft storage facility also located in Hemel Hempstead.
Expansion

By 2005, SWR's high-quality steel cables and fittings could be found on structures such as Wembley Stadium, the Emirates Stadium, and on the Hong Kong Bridge. By this point, customers included BAE systems, Ferrari, McLaren and BSI, to name a few. Jason Lee was delighted by the progress that the company had made and was particularly proud of the team, who worked together to successfully set SWR apart from the competition.
SWR Trade Spares is Online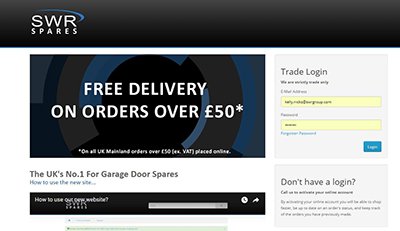 With demand increasing, SWR Trade Spares launched the company's first e-commerce trade website, now an integral part of the business. The online store allows trade visitors to make a quick and simple purchase of multiple products at once.
SWR Balustrade Launched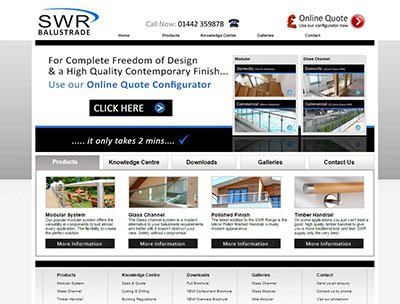 SWR launched a new business division supplying prefabricated stainless steel modular balustrade systems to the trade. The website allows visitors to browse products by system type, access a knowledge base which breaks down and explains the project process, and download installation instructions.
Usain Bolt Breaks his Record
Usain Bolt had claimed the title of "Fastest Man Alive" before the 2009 World Championships in Berlin, where he broke his own record with an astonishing 9.58 second 100m win, taking home Gold.
Company Values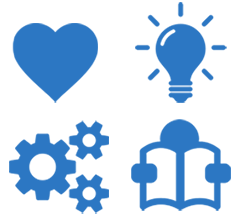 Working closely with its employees, SWR developed a set of company values based upon the aim of creating a truly great company both to deal with, and to work for.
SWR Installations Launches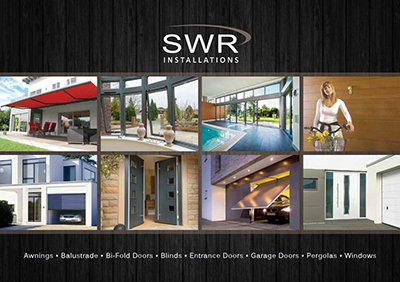 After years of installing Garage Doors, SWR expanded its home product range to include Awnings, Pergolas, Entrance Doors, Bi-Folding Doors and Windows. SWR began to position itself as a luxury home improvement business, with a specific focus on high-quality and innovative products.
SWR Group Website Re-designed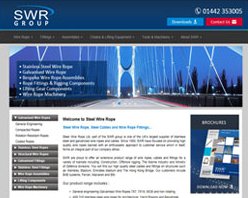 Our "in-house" Marketing team did a fantastic job of modernising and developing the SWR Group website, they maintain and update the site regularly to ensure a user-friendly experience for all visitors.
England's Royal Baby Arrives
All eyes were on the Duke and Duchess of Cambridge (perhaps better known as Prince William and the former Kate Middleton) this summer as they awaited the arrival of their first child. Prince George Alexander Louis arrived on July 22, and took his rightful place as third in line for the British throne.
Fatzer® Partnership

SWR partnered with Fatzer, which specialises in manufacturing high-quality steel wire rope for winches, ropeways, mining and other structural applications.
Teufelberger Partnership

SWR partnered with Teufelberger, a specialist steel wire rope manufacturer for a wide range of applications including; cranes, ropeways, building & construction, industry, forestry, and slope winches, as well as personal fall protection equipment. SWR have been supplying Teufelberger products for the past ten years and became a UK distributor in 2015.
Tractel Partnership

SWR partnered with Tractel® who manufacture hand-operated lifting and pulling equipment such as Tirfor® and jockey™ winches.
SWR is Still Growing

SWR aim to be a supplier of great value to its customers and employees with quality and innovation at the heart of everything they do. Today SWR have 58 great people (and counting), 5 key values, 4 million unique website visitors and thousands of satisfied customers worldwide.
Leonardo DiCaprio finally wins his Oscar
Leonardo DiCaprio finally wins his first Oscar for survival epic 'The Revenant', after six nominations.
New Responsive Wire Rope Website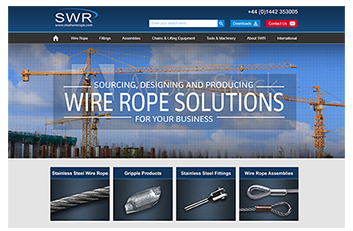 SWR's in-house graphic design and web development teams created a custom responsive website to improve its online customer experience.
Investors in People Silver Award!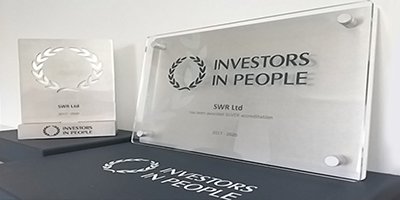 The Investors in People Standard is a framework of best practice, awarded to organisations who continually strive to be outstanding people managers. The performance model requires companies to meet a set criteria in areas including 'learning and development', 'leadership skills', and 'recognition and reward'.
Jason Lee - Managing Director
"We were delighted to be presented with a Silver award and accreditation on our first application! We were particularly pleased with the accomplishment as we know that less than a quarter of IIP companies ever achieve this."
Ideal Home Show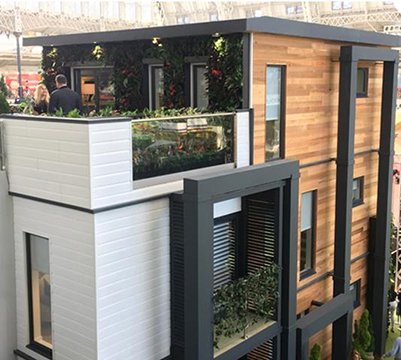 SWR Balustrade systems were on show at London Olympia as part of the renowned Ideal Home Show exhibition. SWR supplied a combination of Glass Channel and Glass Modular systems for the showcase 'Property Ladder Apartment' building that was constructed within the Olympia Grand Hall, famous for its stunning Victorian architecture.
New Responsive Balustrade Website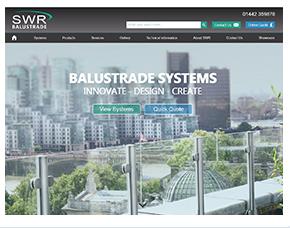 SWR's in-house graphic design and web development teams created a custom responsive website to improve its online customer experience.
OnLevel Partnership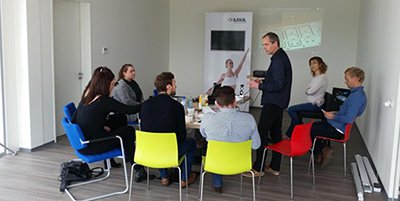 SWR proudly partnered with innovative Balustrade Manufacturer, OnLevel, who specialises in high-quality, high-performance glass channel profiles for a huge range of applications.
UK Construction Week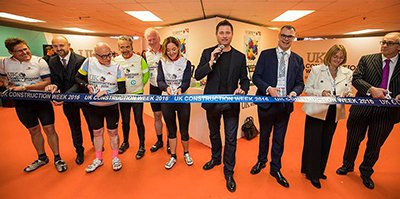 SWR Balustrade exhibited at UK Construction Week in the NEC Birmingham, showcasing their exciting new systems from new Balustrade partner Onlevel.
Time to expand again!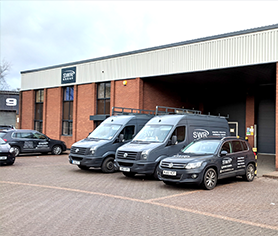 The adjoining building (Unit 2) became available and so we had to have it. This allowed us to increase of storage capacity but more importantly allowed for a bigger, more LEAN layout to our production area.
SWR launches 'Engineered Components' Division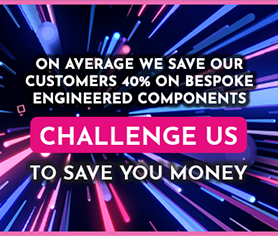 Our 30 years of experience means we've built up a network of trusted global partners that can provide high-quality components in a range of materials - So we launched a new division, offering our skills and expertise to other businesses.
Awarded IIP Gold!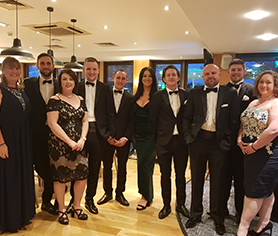 After several years of implementing the suggestions made by The Investors in People Standard, we were finally recognised when it came time to be re-audited. It's difficult to maintain an IIP Silver, but we went one better ..... becoming IIP Gold!
This now places us in the top us in the top 10% of IP-accredited employers in the industry. This recognition is a testament to our commitment to creating a diverse and inclusive workplace, where all employees can thrive and succeed.
We have made significant strides in recruiting, retaining, and promoting employees from underrepresented groups, and have created a supportive and inclusive environment for all of our employees. We firmly believe that diversity and inclusion are key to making better business decisions and achieving success, and we are proud to be recognized for our efforts. We will continue to strive for excellence in this area, as we believe it will bring us to be a more successful business in future.
Business as usual, as we support critical industries during the COVID Pandemic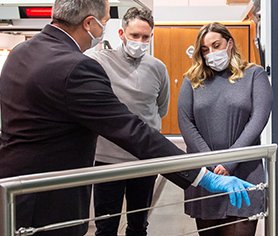 As a supplier to many critical industries, it was essential that we remained working at full capacity. This includes in our warehouse where we rapidly added all the necessary safety measures to ensure all machinery is manned and fully operational. In addition, we put the infrastructure in place to ensure office staff could work remotely if necessary.
Trade Spares Rebrand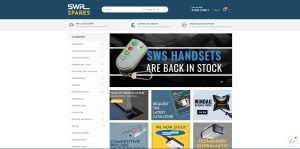 Trade Spares had a rebrand! We felt it was time that the Trade Spares sector had some TLC. Rebrand website, app, catalogues and price lists!
Second Location & Investment in Automation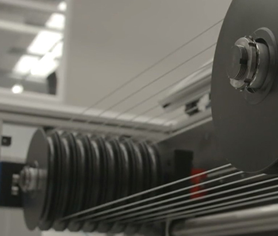 Recently, we acquired wire rope cutting and dereeler machines from Gripple Automation for our production area. The cutting machine alone can deliver around 1500 units OF 1 metre cable length per hour – all controlled from a simple-to-use interface. The cable dereeler is a standalone unit that can process cables in a variety of diameters at up to 20 metres per second. Both machines have dramatically sped up our productivity to become essential parts of our workshop. We also acquired a new 6,000 sq/ft warehouse just up the road, more storage and the site for our new Training Academy.
Home and Outdoor Rebrand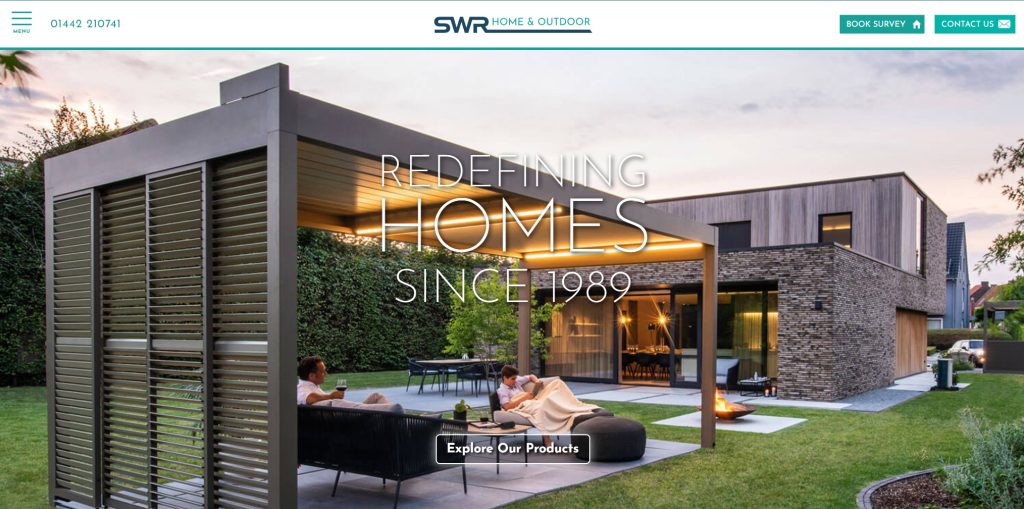 The second site to be given the rebrand treatment was Home & Outdoor. It was important for us to bring to life our company values/purpose - putting PEOPLE AT OUR CORE.
Balustrade Rebrand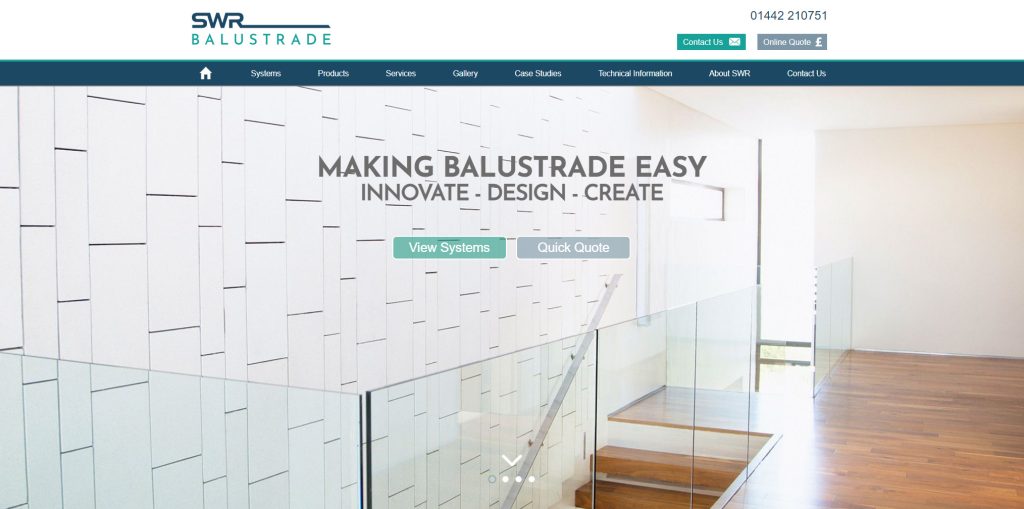 On a roll! Balustrade rebranded in the same year as Home and Outdoor. May be a different division, but the company values and purpose don't change - Making this a straightforward job.
Wire Rope Rebrand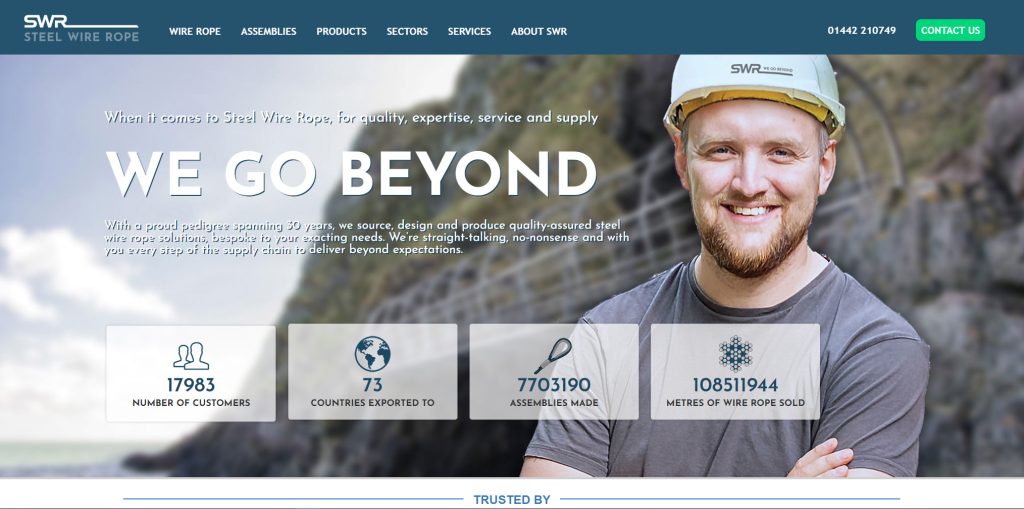 Our business has evolved significantly over the past few years. As a result, we felt the old look no longer reflected who we are and the extent of what we now offer customers. We hope you like the new branding. You'll see updates to our website and literature - including brochures and datasheets.
Main Site Rebrand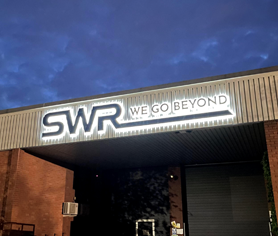 Our final website to get the new branding applied is the one you're looking at now. Our "Umbrella" site. The one where we can give you a real insight into "What SWR are all about" - From Our People to Our Customers, to Our Community. We Go Beyond.