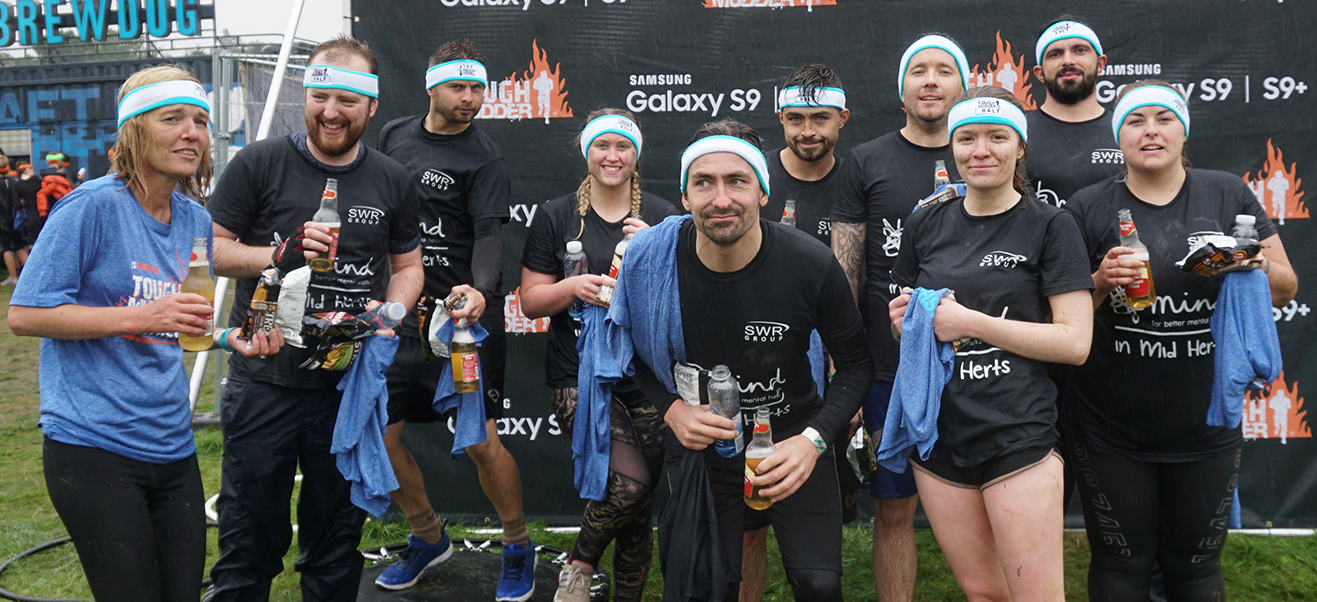 They came, they saw and then got completely caked in mud for a very good cause. On 22nd September a brave team from SWR put aside their fears (and common sense) to take part in the infamous Tough Mudder challenge-a gruelling 5 mile hike through pools of mud and over a range of intimidating obstacles.
They weren't taking part for the sake of it though but to raise money for Mind in Mid Herts: a local charity who promote mental wellbeing and support individuals affected by mental health. In total, 10 people from SWR signed up for Tough Mudder plus a couple of workmates went along to take pictures and cheer them on.
When our intrepid team set out for the long journey down to East Sussex on Saturday morning, the signs were not good. Torrential rain meant the obstacle course would be even muddier than usual (if that was possible). However, the incentive to complete the course and raise money meant they were determined to get the job done.
Alisha East, one of the participants and Finance Assistant at SWR, admitted everyone had to help each other out and work together in order to complete the challenge.
She said: "We all stayed together throughout the trek and encouraged each other to complete the obstacles. Personally the hardest part of the course for me was a wall obstacle that required help from your team to get over. It was very difficult! Also, part of the course had a lot of mud which made it hard to run or walk in without sliding".
The SWR team managed to complete Tough Mudder in around 2.5 hours. Not bad for a bunch of part timers! Everyone got a t-shirt, headband and a well-earned pint of cider for finishing the course. However, it was the £1000 raised for Mind in Mid Herts that was the greatest reward.
Jason Lee, SWR's Managing Director, said the Tough Mudder team can be "very proud" of their achievements and raising funds for such a worthy cause.
He said: "Well done to everyone Involved. All the bumps and bruises were worth it in the end. Let's see if we can get even more people to take part next year!"
Started in March 2007, Mind in Mid Herts was set up to provide services across the mid Hertfordshire area. They work tirelessly to promote social inclusion and wellbeing for those who suffer from mental distress.
Mind in Mid Herts are fully accredited and run by caring professionals who specialise in counselling, group therapy, public awareness and more. They couldn't function without volunteers however so have a full training programme for those wishing to help.